AM100 webinar with special guests Sytner, Swansway and TrustFord
The annual AM100 list of the biggest and best in automotive retail will be revealed at an AM100 webinar next week by AM and our new research and analysis partners, accountancy firm BDO.
BDO's head of motor retail Steve Le Bas and AM editor Tim Rose will outline the key findings of this year's study of the UK's 100 largest franchised dealer groups at 2pm on November 18.
And joining them to discuss the 2020 AM100 findings and the critical issues that motor retailers have been overcoming are three special guests from large AM100 groups:
Darren Edwards, chief executive of Sytner
 
Stuart Foulds, chief executive of TrustFord
 
Peter Smyth, director of Swansway Group
The AM100 webinar is free to attend but viewable only by attendees who register – click here to go to the registration page.
"This year's research has picked out some fascinating trends from survey responses and statutory accounts, and I hope you'll join us to hear the key findings," said AM editor Tim Rose.
"The pandemic blocked our plans to hold our usual gala dinner to announce the AM100 this month, but this will be a great opportunity to learn more about the opportunities for the AM100 conveniently from your laptop or tablet PC."
This webinar, sponsored by RAPID RTC, will be the first glimpse of the 2020 AM100, days before the AM100 supplement is published alongside the December Issue of AM magazine on November 20.
Rose added: "I'm delighted that the motor trade experts at accountancy firm BDO have now partnered with AM for our annual AM100.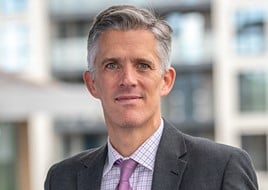 "Its head of motor retail, Steve Le Bas (pictured left), and senior audit manager James Evans, have been involved in auditing the AM Awards for several years, and have kindly agreed to extend their support of AM into the AM100."
"But I must take this opportunity to thank Piers Trenear-Thomas for his superb, diligent work in compiling the AM100 each spring, and the AM100 Update each autumn, over almost three decades."